Friday Favorite: Mediterranean Snacks Lentil Crackers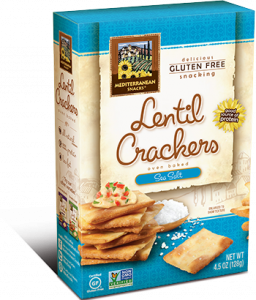 This week's Friday Favorite is awarded to one of my holiday favorites. Mediterranean Lentil Crackers. These crackers are the perfect choice for those holiday appetizers that call for a cracker for dipping, crunching and snacking.
I love that these Lentil Chips are a good source of protein, low in fat, and are certified gluten-free. Plus… they are positively delicious and go great with crackers, hummus, dips and more.
The Mediterranean Chip Lentil Crackers come in four delicious flavors: Cracked Pepper, Rosemary Herb, Tomato Basil, and my favorite, Sea Salt.
Full of flavor, protein and good health are why this week's BeFreeForMe's Friday Favorite is awarded to Mediterranean Snacks Lentil Chips. Congratulations!
Tags: Friday Favorites, Gluten free crackers, Mediterranean Snacks Lentil Crackers