Tuesday, December 10th, 2013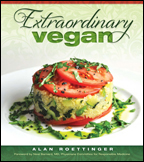 Just in time for the holidays, our Win-It-Wednesday is all about good cooking and good baking! This week sponsor is Book Publishing Company, the publishing company for these two incredibly awesome gluten-free and vegan cookbooks that are being featured.
These Win-It-Wednesday's prizes will get your creative juices flowing in the kitchen. The first cookbook is "Extraordinary Vegan" by Alan Roettinger. With 30 years of cooking experience, Alan shares tons of his culinary wisdom so we all can cook, and eat, deliciously healthy!
There are over 100 recipes using plant-based foods that will open your eyes (and your taste-buds!) to a whole new world of vegan living. His cooking style and tantalizing recipes will make you want to take chances in the kitchen that you have never taken before. All the recipes in this cookbook are also gluten-free. Some of my favorite recipes include the Roasted Cauliflower and Beet Salad, Spicy Minted Slaw, and the Pears in Pomegranate Juice.
This cookbook is perfect for those planning on making the upcoming resolution of eating and living a healthier lifestyle in the New Year.
The next cookbook prize is "The Allergy-Free Cook Bakes Cakes & Cookies" by Laurie Sadowski. If you're looking for some awesome recipes for gluten-free, dairy-free, egg-free and soy-free cakes & cookies you have to check out Laurie Sadowski's newest cookbook "The Allergy-Free Cook Bakes Cakes & Cookies".
Laurie Sadowski, a food enthusiast with celiac disease (who is also a vegan) wrote this cookbook to share with us her sweet side of 
baking. Her newest cookbook is a collection of to-die-for cakes, cookies, bars and squares – all of which are perfect for those with celiac disease / a gluten-free lifestyle, dairy allergies, egg allergies, and also a vegan-life style, ADHD and autism.
Just looking at these recipes make me want to dig out my baking pans and rolling pin. They range from the decadent (Triple-Chocolate Layer Cake or Two-Bite Chocolate-Covered Cherry Cupcakes, anyone?), to the traditional (comfort foods like New Old-Fashioned Strawberry Shortcake or Autumn Apple Cake with Cider Sauce), to the dinner-party daring desserts  (Molten Lava Mini Cakes with Raspberry Sauce or Hazelnut Biscotti, to name just a couple).
I really like this cookbook because there are also a lot of tips and tricks to make gluten-free baking a success… something we all can use every so often. =)
Also… take note!!! This Win-It-Wednesday will be featured for a THREE week period… so make sure that you enter each week for THREE chances to win! The FIRST WINNER will be randomly selected to win a cookbook of their choice from the entries received before Tuesday, December 17, 2013 at 11:59 PM EST, a SECOND WINNER  will be randomly selected to win from the entries received between Wednesday, December 18 and Tuesday, December 24, 2013 at 11:59PM, and a THIRD WINNER will be randomly selected to win from the entries received between Wednesday, December 25, 2013 and December 31, 2013 at 11:59 PM … SO – make sure you enter THREE times to win!
How can you win?
Easy!
Reply to this blog and let us know which one of the two cookbooks you would like to win (Me? It's a toss-up! The sweet side of me says, "Go for the cakes and cookie cookbook", while the healthy side says, "Do it! Go for the scrumptious vegan / gluten-free cookbook!" Ahhhhh… such a toss-up!)
Good luck, eat healthy… but remember that cookies and cakes are good once in a while too =) … and as always …
Be Free!
Note: Want to order these cookbooks? Check out these link on Amazon.com: The Extaordinary Vegan and The Allergy-Free Cook Bakes Cakes & Cookies: Gluten-Free, Dairy-Free, Egg-Free