Friday Favorite: Crunchies All-Natural Fruit & Veggie Snacks
Sometime I want a crunchy snack, but want to shy away from higher calorie chips & crackers.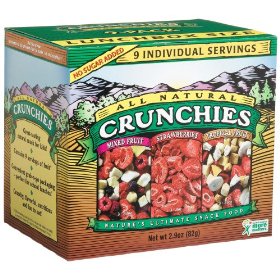 That's when I grab a handful of Crunchies, gluten and allergen free fruits and veggies that are made through a unique freeze-drying process.
This unique process, which removes 97% of the moisture from the fruit and veggies, contributes to the crunchy texture, all the while retaining many of the nutritious enzymes that are lost through traditional heat drying.
I discovered Crunchies last year at the Natural Food Expo in Boston – and I am looking forward to visiting them again this year too!
Some of the varieties they have are: Strawberries, Blueberries, Mango, Mixed Fruit, Very Berry, Salted Edamame or Edamame Crunchies, or Roasted Veggies.
My favorites though are the Corn Snacks and the Tropical Fruit Mix.
They come in zip-top resealable sharing sized bag or single-serve lunch box / on-the-go sized servings! (Note: there is currently a Lunch Box packs – Buy 2 for $17.99 and get one free!)
Tags: Crunchies, Friday Favorites