WIN-It-Wednesday: National Foundation for Celiac Awareness Goodie Bags!
The National Foundation for Celiac Awareness (NFCA) is a 501(c)(3) non-profit organization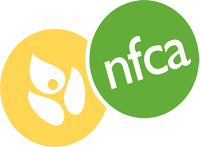 dedicated to raising awareness and funding for celiac disease that will advance research, education and screening amongst medical professionals, children, and adults on a gluten free diet.
I had the pleasure of meeting Alice Bast, the Executive Director of the NFCA, and her team last fall at a seminar that educated pharmacists about gluten; specifically, what gluten is and how it can be hidden in different OTC and prescription medicines.
When I first met Alice and her team I couldn't help but notice they shared my enthusiasm on educating everybody (and anybody!) about celiac disease and making sure celiacs everywhere have the tools to live a happy and healthy life… gluten-free.
If you haven't checked it out yet, or you haven't visited in some time, visit the NFCA website. It's new design is user friendly, and full of information for those just starting out on a gluten-free diet, as well as the seasoned gluten-free'er.
My favorite sections of the NFCA website? The Resource section which has support for patients and their families, food & recipes, plus more. Another section to explorer is the News section which showcases a "recipe of the week", videos and current news and articles on celiac disease. And last, while you're at it, check out the Events section of the NFCA website to see if there are any support meetings or fundraisers in your area that may be of interest to you – after all sharing with each other is crucial in learning more about the celiac lifestyle and supporting each other.
For this weeks WIN-It-Wednesday, the NFCA has graciously offered five (YES 5!) Goodie Bags full of fun NFCA goodies! Contents of the goodie bag may include such items as celiac logoed coffee mugs, sticky notes, and celiac awareness ribbon magnets (I have one on the back of my car showing I am a supporter of celiac disease awareness!). Also included with the fun little goodies will be a book, either a gluten-free cookbook OR an educational resource book on celiac disease, the winners can pick which type of book they would like.
How can you win?
EASY!
Reply to this blog and ask one questions about celiac disease / the gluten free diet that you need to know OR share one pointer/tip you would give someone who just got diagnosed with celiac disease today. (Mine? Try to "embrace" the gluten-free lifestyle… really wrap your arms around it and learn as much as you can, and make sure you have fantastic fun trying new foods you never knew existed!)
Five randomly picked winners will be chosen as winners. All entries must be posted by Sunday, 09/19/09 at 12:00 Midnight EST.
Good luck! And as always…
Be Free!
Kathleen
Tags: National Foundation for Celiac Awareness, NFCA, Win-It-Wednesday