Friday Favorite: Glutenfreeda's Gluten-Free Instant Oatmeal
Now that fall has official begun, the leisurely mornings of poking around, reading the daily paper on the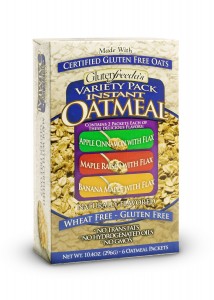 front porch with a cup of coffee, and nonchalantly deciding what's for breakfast is over. Sorry folks!
But I recently made a great find with Glutenfreeda's INSTANT Oatmeal! It is quick, easy and delicious – and perfect for these crazy early September mornings!
This instant oatmeal is made with certified gluten free oats, organic maple syrup and all natural ingredients. But what I like best about them is that they all contain flax, which boosts up the nutritional content and keeps me just a bit more satisfied until lunch time rolls around.
The flavors Glutenfreeda offers are: Maple Raisin with Flax; Banana Maple with Flax (which is my fav); Apple Cinnamon with Flax. Each box has 6 packages of oatmeal in each.
Can't decide what flavor you may want to try? Get the variety pack that offers 2 of each of the 3 flavors.
They are perfect for a quick breakfast – just microwave for 2 minutes with water. Easy, simple and gluten free! That is why Glutenfreeda's Instant Oatmeal got my vote for this week's Favorite Friday!
(Note: Many celiacs question if oats are safe to eat. To find out more on this read this article written by Shelley Case –  http://glutenfreediet.ca/oats.php)
Tags: Friday Favorites, Gluten free instant oatmeal, Glutenfreeda