Tuesday, September 17th, 2013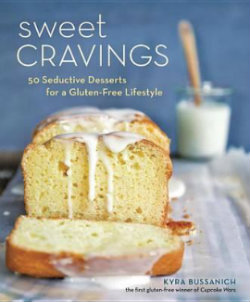 Have you ever paged through a cookbook and tagged almost every single page? Have you ever adoringly gazed at the photos of  sweet gluten-free treats? Or have you ever been beside yourself with giddiness on  finding a recipe for a dessert that you once loved but haven't had in years since you had no idea how to make it gluten-free?
These are the reasons why I was so excited, giddy and mesmerized while paging through the new cookbook from Kyra Bussanich, Sweet Cravings: 50 Seductive Desserts for a Gluten-Free Lifestyle
.
If the name Kyra Bussanich sounds familiar to you it could be because she was the first gluten-free baker to not only appear on – but WIN – the Food Network's hit Show, Cupcake Wars.
Let's think about this: Here is a gal that lives the gluten-free lifestyle and bakes gluten-free who is competing  against traditional bakers that use "regular"  flours… and she WINS! Yup… SHE WON!
That means that her gluten-free confections went up against the "real thing" and beat them, hands-down, in the competition. =)
And that only means one thing: Kyra Bussanich's gluten-free dessert recipes are deliciously awesome and worth trying! And 50 of them are included in this new cookbook. Some of the many that I cannot wait to try include: Apple Crisp, Peanut Butter Truffle Crispy Rice Bars, Cannolizella (yup… gluten-free Cannolis!!!), Linzer Bars, Mexican Chocolate Baked Alaska, and of course, her Boston Cream Pie Cupcakes (and since I'm from Boston, I'm "wicked excited" about trying these!).
All of these sweet reasons are why I am super-excited that Kyra has graciously offered four (yes, 4!) lucky BeFreeForMe dessert lovers a chance to win their very own copy of the Sweet Cravings: 50 Seductive Desserts for a Gluten-Free Lifestyle
cookbook!
Two (2) winner will be randomly selected from all comments / entries received before Tuesday, September 24, 2013 at 11:59 PM (EST), and two (2) more winners will be selected from all comments / entries received between Wednesday, September 25, 2013 at 12:00 AM (EST) and Tuesday, October 1, 2013 at 11:59 PM (EST).
How can you win?
Easy!
Reply to this blog and tell us what dessert you miss the most since going gluten free? (Me? CANNOLI'S!)
Good luck, remember to always keep your cravings sweet, your dreams full of gluten-free desserts! … and as always…
Be Free!
Want to purchase the Sweet Cravings: 50 Seductive Desserts for a Gluten-Free Lifestyle
cookbook? Check it out here on Amazon.com and save! (As of 09-17-13… Only $12.98 AND free shipping if you place an Amazon order for more than $25. How sweet is that?!)  =)