Thursday, September 19th, 2013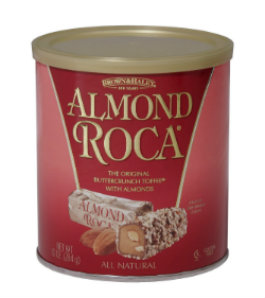 This week's Friday Favorite is for all of you that have a sweet tooth. It was love at first bite after trying my first Almond Roca. The kind of love that you want to tell the world about.
Almond Roca's are bite sized crunchy chocolates that are to die for. So many toffees and crunchier chocolates are packed with gluten, but Almond Roca is gluten-free. So all of you gluten-free toffee lovers can rejoice!
My favorite flavor is the Almond Roca Buttercrunch Toffee, but other flavors of the  Buttercrunch Toffee include Cashew Roca, Mocha Roca and Candy Cane Roca.
All these sweet reasons are why this week's Friday Favorite is awarded to Brown & Haley's Almond Roca Buttercrunch Toffees! Cheers!
Want to buy? Check out this link on Amazon.com and take advantage of FREE Shipping!