Friday Favorite: Glenny's Gluten-Free Fruit & Nut Bars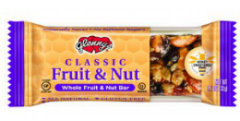 This week's Friday Favorite is an all-natural bar that is made with fruits & nuts: Glenny's Classic Fruit & Nut Bar. Made with only non-GMO, gluten free and dairy free ingredients this bar is packed with fiber & protein.
The ingredients are simple: Raisins, peanuts, honey, apricots, brown rice syrup, crisp brown rice, walnuts, dates, Brazil nuts and sunflower oil. That's it. Nothing artificial.
I love that these bars are low-sodium and also contain no corn syrup. They are perfect for breakfast & snacking, and are just the right size for slipping into a backpack or purse. Other flavors include Cherry & Almond, Cranberry & Almond and for the real nut lovers, Cashew & Almonds.
Packed with nuts and fruits, and good for you ingredients are why this week's Friday Favorite on BeFreeForMe.com is awarded to Glenny's Whole Fruit & Nut Bars. Congratulations, Glenny's!
Want to buy? Check out these links on Amazon.com:
Glenny's Whole Fruit & Nut Bars
Tags: dairy free bars, Friday Favorites, gluten-free bars, Gluten-free fruit & nut bars