Tuesday, June 7th, 2011
Do you have questions about celiac disease or the gluten-free diet that you need quick and easy to understand answers? Do you wish that for once a doctor and dietitian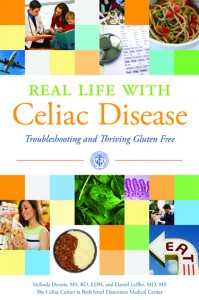 were partners in helping you solve problems and issues concerning the gluten-free lifestyle?
Well fret no more my gluten-free friends! Dr. Daniel Leffler, MD, MS and Melinda Dennis, MS, RD and LDN have teamed up and co-authored a new book published by the American Gastroenterological Association (AGA) Real Life with Celiac Disease: Troubleshooting & Thriving Gluten Free
is packed with usable and must-know information about living and thriving on a gluten-free diet.
In their book, Dr. Leffler and Ms. Dennis, both from the Beth Israel Deaconess Medical Center in Boston, have teamed up with over 50 international experts on celiac disease that share stories of patients who have questions or problems related to celiac and gluten-related disorders.
Even though I read this book while laying on the Rhode Island beach side, the wealth of knowledge and useful information included in this book made me feel as if I were attending an international celiac conference, where each contributor on the agenda speaks about engaging and important information about celiac disease in easy-to-understand terminology.
Dr. Leffler is also currently conducting a research study involving having first-degree relatives of celiac disease test themselves for celiac disease using a new "finger-stick" blood

test kit. Research results of this testing will hopefully be beneficial in two ways: First, family members who tested positive for celiac disease will be assisted in arranging appropriate medical follow-up to lead to an earlier diagnosis & care of the disease; and second, this research will allow the medical community to more readily reach & treat more potential people with celiac disease, and also allow these medical researchers the ability to conduct more efficient studies of the disease. The test kits being used in Dr. Leffler's test are distributed by GlutenPro and is called Biocard/CeliacSure. It is similar to the standard celiac blood test TTG used in doctor's offices, but is super consumer-friendly. It involves using just a fingerstick blood test and is able to be read directly by patients in less than 10-minutes right in their own homes.
Good information from fantastic contributors all compiled into one fabulous book are the reasons why I am so happy to have GlutenPro sponsor this week's WIN-It-Wednesday on BeFreeForMe.com.
How can you win?
Easy!
Reply to this blog and tell us a little pointer, piece of advice or inspirational tidbit you would pass along to someone just diagnosed with celiac disease to help them troubleshoot and thrive with their new lifestyle (or if you are just diagnosed, something you would love to learn about). My tidbit? If celiac disease runs in your family… Get tested! Symptoms or no symptoms!
A total of SIX (Yes… 6!) BeFreeForMe members will be selected to win a copy of Real Life with Celiac Disease: Troubleshooting & Thriving Gluten Free
. (Check out the rave reviews on Amazon.com
this book has received!) Three (3) winners will be randomly selected from the entries received before Tuesday, June 14th, 2011 at 11:59 PM EST, and three (3) more winners will be randomly selected to win from the entries received between Wednesday, June 15th and Tuesday, June 22, 2011 at 11:59PM. SO – make sure you enter to win two times!
Good luck, Keep thrivin'… and as always…
Be Free!