Tuesday, February 9th, 2010
I am so very glad to announce that this weeks WIN-It-Wednesday sponsor is Gift of Nature Certified Gluten-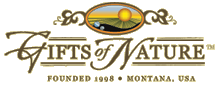 Free Oatmeal and baking mixes!
Gift of Nature's goal is to provide the best certified gluten-free oats, flours and baking mixes available. Gift of Nature keeps things real healthy too by using nutritious whole grain brown rice and bean flours in their mixes – not the typical white rice flour and starch which offer little nutritional value. Gift of Nature's products also contain unrefined sweeteners, and all natural ingredients. And if you want to try something new, check out their mixes using Montina Pure Flour, which is high in Fiber, Protein, and Iron.
Gift of Nature is offering two (Yes 2!) LUCKY BeFreeForMe members a "Gift (of Nature) pack" containing the following items:
Old Fashioned Oats* (44-ounce package): Great for a hot cereal in the morning or for baking! Oatmeal Cookies anyone?
Buttermilk Biscuit Mix: Think Bisquick for the gluten-free set! Use this versatile multipurpose baking mix to make fluffy biscuits, coffee cake, dumplings, and anything you use to make with Bisquick! Yahoooo!
French Bread and Pizza Mix: Enough to make a crusty loaf of French bread or 2 large pizza crusts. Gluten free yeast packet included.
Cranberry Orange Muffin Mix: Made with gluten-free grains, including Montina. Great for breakfast or mid-afternoon snack.
How can you WIN?
Easy!
Reply to this blog and tell us what gift(s) nature gives to you. (Me? New England winter days that are getting longer as they pass… a promise that springtime is coming soon!)
All entries must be received by Tuesday, February 16 at 12:00 midnight EST.
Good luck, Be thankful of nature's gifts… and as always,
Be Free!
* Please note that those on a gluten-free diet should check with their doctors before consuming even moderate amounts of certfied gluten-free oats.