WIN-it-Wednesday! Marconi Infused Oils
As I mentioned many, many blogs-ago, Marconi Infused Oils are one of my all-time favorite fl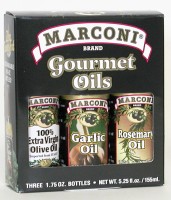 avor picker-uppers! I use them on everything, from grilled chicken, fish, white rice, and as an all-time stand-by salad dressing on the run (I actually keep one of the small sample pack sizes in my purse)!
Food can be crazy fun because of these infused olive oils!
Being an all-time fan makes it a pleasure for me to pick 7 (yes… SEVEN!) lucky BeFreeForMe members to receive a FREE coupon for a Marconi Oil item of their choice!
I like to use the Basil Infused Oil drizzled over garden fresh tomatoes, basil leaves & goat milk mozzarella. Feel free to share and let the rest of us know how you like to use olive oil in your recipes / cooking too!
To enter to win, just reply to this blog and let me know which Marconi infused oil you would most like to try. 
How easy it that!
Marconi infused oils come in six varieties: 
• Marconi GARLIC Infused Oil
• Marconi BASIL Infused Oil
• Marconi OREGANO Infused Oil
• Marconi ROSEMARY Infused Oil
• Marconi JALAPENO Infused Oil
• Marconi DIPPING Oil
All of the Marconi Oils are manufactured under strict guidelines and regulations, to prevent any cross-contamination.
Once the winners are randomly selected I will email you and confirm your mailing address for the coupon!
Good Luck!