Monday, May 11th, 2009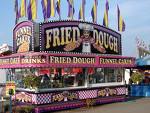 I discovered an awesome gluten-free fried dough!
No, I didn't discover it at some carnival stand, amusement park, fair or seaside resort. I found it in my very own kitchen during a "mistake" I made last week while developing a pancake recipe.
What was suppose to be a no-fuss, skillet-less pancake transformed itself into a shiny, disk of bubbling crispy batter. As soon as I opened the oven door, I thought I was in the House of Mirrors… I knew I wasn't dealing with any ordinary pancake anymore. This darn disk of dough had played a trick on me.
I was in heaven. The buttery balloon-like pockets were screaming for powdered sugar & cinnamon louder than children on a field trip while diving down the rollercoaster's largest hill.
Check out this recipe yourself. And beware – because you won't want to share!
Gluten-free Fried Dough
4 tablespoons butter
½ cup gluten-free all purpose flour (I used Bob's Red Mill)
½ cup milk
2 eggs
A few dashes of cinnamon
Preheat the oven to 425 degrees.
Place the butter in a glass pie plate, and put in the oven until melted. Do not burn!
While butter is melting, whisk the rest of the ingredients together.
Remove pan from oven, and make sure that the melted butter is distributed evenly across the bottom of the pan. Pour batter over the top.
Bake for about 20 minutes until the edges are crispy and browning.
Remove pan from oven, and remove any butter that has pooled on top of dough. Sprinkle with powdered sugar, cinnamon or granulated sugar.
Enjoy!