WIN-It-Wednesday: Erewhon Cereal Giveaway!
Welcome to the first Win-it-Wednesday Blog!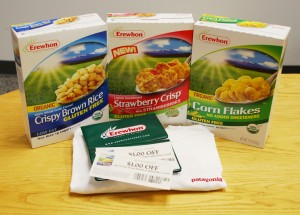 We all know that breakfast can be tough when you need to eat gluten-free or have food allergies. But  I am one of those people that MUST eat breakfast. If I try to be sneaky and skip it, my stomach starts screaming at me by mid-morning. And since I've been told many times over, that breakfast is "the" most important meal of the day, I feel that I get one "important" thing out of the way first thing – just by… eating! =)
Shelley Case mentioned some fantastic breakfast ideas in her "Ask Shelley Case" column on BeFreeForMe last week. Since then, I've had tons of members emailing me, asking me what I eat for breakfast.
Well, one of my favorites, especially during busy weekdays is yogurt mixed with cereal. I find that this is a "portable" version of cereal and milk, and allows an easy transport to the office – a cup of yogurt in one hand and a baggy full of cereal in the other. It also gives me a dose of calcium, which my Doc has told me to eat more of.  =)
One of my favorite cereals is Erewhon Gluten-free Brown Rice with Mixed Berries. I can buy it at my "regular" supermarket too which makes it super-convenient. That's why I was more than thrilled when the folks over at US Mills, the people that manufacturer the Erewhon cereals, contacted the BeFreeForMe offices and asked to conduct a give-away!
Here's the scoop:
Five lucky BeFreeForMe members will win the following:
– Three (3) boxes of Erewhon gluten-free cereal of their choice!
– One (1) Patagonia T-Shirt (available in  Adult L, XL & Kids L)!
– Erewhon Coupon Keeper with coupons for $1 off next purchases!
To enter to WIN, just reply to this blog and tell us the three types of Erewhon cereal you would like if you are one of the FIVE lucky winners!
Make sure you reply before 12 midnight EST – Friday, 05-22-09
~ How easy is that! ~
Erewhon gluten-free cereals come in seven yummy varieties:
• Erewhon Gluten Free Crispy Brown Rice *
• Erewhon Crispy Brown Rice with Mixed Berries *
• Erewhon Cocoa Crispy Brown Rice *
• Erewhon Rice Twice *
• Erewhon Strawberry Crisp Flakes *
• Erewhon Corn Flakes *
• Erewhon Aztec Crunchy Corn & Amaranth *
* UPDATE: ALL gluten-free Erewhon cereals are also dairy-free!  For more allergy info check out the FAQ page of the Erewhon website.
Once the five winners are randomly selected we will email them and ask what size shirt they would like, and also confirm the shipping address!
Good Luck!