Friday Favorite: Simply 7 Hummus Chips – The chip made from chickpeas
If you're looking for a new gluten-free chip for dipping, for snacking or for a crunchy side to your lunchtime sandwich you must try Simply 7 Hummus Chips.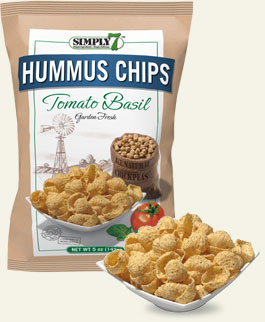 With no trans fats, artificial colors, flavors or preservatives – these gluten-free chips are delicious. They come in three flavors: Sea Salt, Spicy Chili Pepper, and Tomato Basil.
What exactly is a hummus chip, you ask? A hummus chip is a perfectly shaped chip that is the perfect shape for scooping up your favorite brand of hummus, dip or spread. The ingredients are simple. And they are made with… chickpeas!
Chickpeas contain tons of protein, fiber and many important minerals. So I love that the very first, and main, ingredient in the Simply 7 chips is chickpea flour.
Chips made with chickpeas… ingenious… and the reason why this week's Friday Favorite on BeFreeForMe.com goes to Simply 7 Hummus Chips.
Congratulations!
Looking to buy Simply 7 Hummus Chips? Check out these links on Amazon.com:
Simply 7 Hummus Chips, Sea Salt, 1-Ounce Bags (Pack of 24)

Simply 7 Hummus Chips, Spicy Chili Pepper, 5-Ounce Bags (Pack of 12)

Simply 7 Hummus Chips, Tomato Basil, 5-Ounce Bags (Pack of 12)