WIN-It-Wednesday: Plentils… by Enjoy Life Foods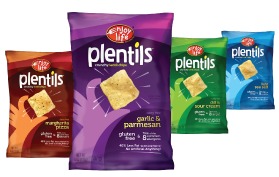 Plentils are the new chip that has plenty of good. And none of the not so good.
The newest addition to the Enjoy Life family, Plentils, join their product line-up that are all gluten-free and free from the top most common allergens.
Free of gluten, dairy, soy, wheat, peanuts, tree nuts, egg, fish and shellfish; as well as free of casein, potato, sesame and sulfites. These chips are full of flavor and crunch.
So what are Plentils made of? Lentils of course! And plenty of them. Lentils are a pulse that are low in calories and high in nutrition. They also are high in iron, B vitamins and protein. Talk about a super pulse!
I really like Plentils since they are low in calories and tasty too. That's why their tagline line is "Better-For-You-Chip". Only 130 calories and 6 grams of fat per serving, Plentils have 40% less fat than the leading potato chip – Plentils add a nice crunch to lunch or when you need something crunchy to munch. Got that? =)
Plentils come in some fantastic flavors too: Light Sea Salt, Dill & Sour Cream, Garlic & Parmesan and, my favorite, Margherita Pizza. They are just working into grocers across the country, so start looking for them in your area.
But we have a sneak peak of these chips since Plentils is the sponsor of this WIN-It-Wednesday on BeFreeForMe.com! Four (Yes! 4) lucky winners will win a two-pack of these delicious new, Better-For-You, chips.
How can you win?
Easy!
Reply to this blog and tell us your favorite "Better For You" tip or trick. Me? Instead of drinking soda (tonic, pop, etc.!) I drink a splash of juice in seltzer water… delicious and low in calories.
Two (2) winners will be randomly selected from the entries received before Tuesday, May 8, 2012 at 11:59 PM EST, and two (2) more winners will be randomly selected to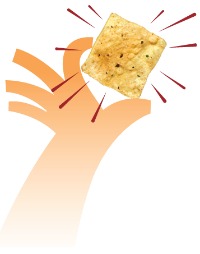 win from the entries received between Wednesday, May 9 and Tuesday, May 15, 2012 at 11:59PM. SO – make sure you enter to win two times!
Good luck, keep it crunching… and as always…
Be Free!
Note: Want to buy some Plentils for yourself very, very soon? Be the first to get them on Amazon.com as soon as they are available! Check out these links and get them delivered right to your door.
Please note that these the products are not yet available on Amazon.com – but will be soon!
Enjoy Life Plentils, Light Sea Salt, 0.8-Ounce (Pack of 24)
Enjoy Life Plentils, Margherita Pizza, 0.8-Ounce (Pack of 24)
Enjoy Life Plentils, Garlic and Parmesean, 0.8-Ounce (Pack of 24)
Enjoy Life Plentils, Dill and Sour Cream, 0.8-Ounce (Pack of 24)
Tags: Chips made from lentils, Enjoy Life Foods, Low-calorie gluten-free snacks, Plentils, Win-It-Wednesday