Thursday, April 26th, 2012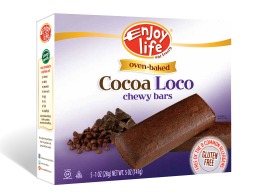 Finally. Finally.  Someone has raised the bar. Thanks to Enjoy Life Foods you can now say goodbye to hard, crunchy and hard to chew bars.
Enjoy Life Foods Chewy Bars are a must try. With four delicious flavors these bars are perfect for morning, mid-day or even as a substitute for those (like me!) that have an after-dinner sweet tooth.
I love the Caramel Apple or Very Berry variety in the morning, the Sunbutter Crunch as an afternoon snack and the Cocoa Loco for a sweet treat.
My favorite though is the Sunbutter Crunch… a nutty treat for those that can't have peanuts. Enjoy… and go nut-free!
Besides being gluten-free, these bars are also free of the eight (8) top allergens: Wheat, dairy, peanuts, tree nuts, egg, soy, fish, and shellfish.
Leave it to Enjoy Life Foods to make a bar that is chewy & delicious – without the most common allergens.
Cheers & Congratulations to Enjoy Life Foods for being this week's Friday Favorite on BeFreeforMe.com. Enjoy… Life…!
Want to order these on Amazon.com? Check out these links and take advantage of Free Super-Saving Shipping:
Enjoy Life Cocoa Loco Chewy On The Go Bars, Gluten, Dairy & Nut Free, 5-Ounce Boxes (Pack of 6)

Enjoy Life Sunbutter Crunch Chewy On The Go Bars, Gluten, Dairy & Nut Free, 5-Ounce Boxes (Pack of 6)

Enjoy Life Caramel Apple Chewy On The Go Bars, Gluten, Dairy & Nut Free, 5-Ounce Boxes (Pack of 6)

Enjoy Life Very Berry Chewy On The Go Bars, Gluten, Dairy & Nut Free, 5-Ounce Boxes (Pack of 6)