Tuesday, April 8th, 2014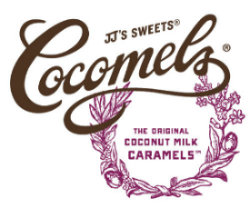 YES…. Spring is finally here in New England and Easter is just around the corner, so now is the time to start thinking about CANDY! Easter is one of the times  that I allow myself to make up basketfuls of treats, and even sneak a few for myself.
But those of us that are gluten free, as well as dairy free, need to watch what candy we eat.
Why?
So many types of candy contain gluten – including most types of caramels. And many of those caramels not only include gluten, but tons of other "junk" like corn syrup, additives and preservatives too.
So if you're looking for a gluten-free and dairy-free caramel that tastes delicious, check out, Cocomels, a "melt-in-your-mouth-you-can't have-just-one" caramel that I recently discovered at a trade show.
Cocomels are made by JJ's Sweets, a Boulder, Colorado based company that is dedicated to new ideas in the world of treats.  They create their coconut milk caramels using sustainable practices and artisan quality ingredients. Cocomels are batch-cooked in copper kettles with dairy-free ingredients to create delicious, smooth and creamy caramels, which are also vegan, non-GMO and USDA certified organic. How good can you get?!
I love the smooth, creamy coconut milk that makes Cocomels like no other caramel. And take your pick, because they come in four flavors: The traditional Original; my favorite, the Sea Salt; the coffee-lovers dream come true, Java: and also the aromatic Vanilla.
After one bite you can see that inspiration, creativity and love go into each blissfully delicious treat!
All of these melt-in-your-mouth reasons are why I am so excited that Cocomels is sponsoring this Win-It-Wednesday on BeFreeForMe.com!
Four (Yes…4!) lucky winners will each win a prize pack containing a 3.75 ounce boxes of the Sea Salt Caramels and a 3.75 ounce boxes of the Vanilla Caramels.
Two (2) winner will be randomly selected from the entries received before Tuesday, April 15, 2014 at 11:59 PM EST, and two (2) more winner will be randomly selected to win from the entries received between Wednesday, April 16 and Tuesday, April 22, 2014 at 11:59PM EST. SO – make sure you enter to win two times!
How can you win?
Easy!
Reply to this blog and tell us how you know springtime is here. (Me? The street sweepers come out to get ready for the Boston Marathon runners! The first sure sign around Boston!)
Good luck, always keep a spring in your step, a sweetness in your soul … and as always,
Be Free!
Want to hear more about Cocomels contest, coupons, giveaways and more? Follow them on Facebook and Twitter!