Tuesday, September 20th, 2011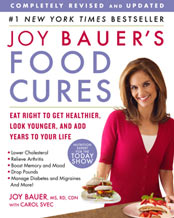 When I saw the bold-lettered name of Joy Bauer's New York Times Bestseller I shook my head in total agreement.
FOOD CURES.
And nobody knows better than a celiac that food is powerful. Food can make all well.
And food most definitely can cure.
I've always been a fan of Joy Bauer, the nutrition expert on the Today Show. Her upbeat ways and good solid layman-termed nutritional advice make her one of my early morning TV favorites. So when she came out with her new book, Food Cures, I was thrilled to check it out and dig right into more of her common sense nutritional advice…. especially the whole section devoted to celiac disease.
Joy's easily approachable & implementable realistic advice is apparent in the first few pages of her Food Cures book. Her way of looking at eating  – whether it be eating gluten-free because you have celiac disease; eating sugar-free due to diabetes; or just eating healthier in order to feel and look your best – is simple and straightforward. Some basic tips she gives are to limit the word "diet" in your vocabulary, have faith in yourself, keep food in perspective (I agree! Is it really the end of the world that there are no gluten-free desserts on a menu?) and the best advice I think anyone can give… prepare to feel fabulous (words most celiacs understand oh so very well!)
As well as having a whole chapter just designated to celiac disease, Food Cures also has sections that I read beginning-to-end on losing weight, having beautiful skin, healthy hair and a beautiful smile.  Also, in the book are chapters regarding other ailments that can be "cured" by diet including cardiovascular disease, arthritis, migraine headaches, and more.
I also like the way each chapter is segmented with addressing a 4-Step Program to get you going and keep you on track regarding the different health concerns. The chapter on celiac disease explains in great detail the facts & basics about celiac disease, and then includes grocery lists, meal plans and recipes.
All in all Food Cures is a fantastic reference book, but also an easy read to learn more about the power of food, and fueling your body in a healthy, but realistic way.
All these reasons are why I am thrilled that the team over at JoyBauer.com is sponsoring the next two weeks WIN-It-Wednesday's on BeFreeForMe.com.
Two LUCKY BeFreeForMe members will each win a copy of Food Cures. One (1) winner will be randomly selected from the entries received before Tuesday, September 27, 2011 at 11:59 PM EST, and one (1) more winners will be randomly selected to win from the entries received between Wednesday, September 28 and Tuesday, October 4, 2011 at 11:59PM. SO – make sure you enter to win two times!
How can you win?
Easy!
Reply to this blog (make sure you are a BeFreeForMe member if you want to win) and let us know a common sense piece of advice when it comes to eating gluten-free, allergen-free, healthy, fat-free, etc… (Me? Plan ahead! Planning keeps the stress level down and the health level of the foods I am eating up!)
Good luck, remember food CAN cure, and… as always…
Be Free!
NOTE: Want to order your own copy of Food Cures? Click on this link to purchase on Amazon.com: Joy Bauer's Food Cures: Eat Right to Get Healthier, Look Younger, and Add Years to Your Life