Enjoy Life Foods: Crunchy Chocolate Chip Cookies (New!)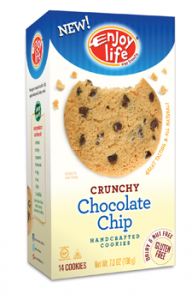 This week's BeFreeForMe's Friday Favorite goes to a new product that is made by a trustworthy and well known gluten and allergen-free food manufacturer, Enjoy Life Foods.
The new product…. Drum-roll please….. CrUnChY Chocolate Chip Cookies! I love these cookies because they remind me of the ever-so-popular Chocolate Chip cookies that my Mom use to pack in our lunchboxes.
Crunchy and full of chocolate chips these gluten, dairy and nut-free cookies are packed with a snap!
Perfect for dunking in milk (yes.. they have been tested and hold-up phenomenally well), as a lunch box treat, or even as a midnight indulgence, these Enjoy Life Crunchy Chocolate Chip cookies are a keeper and this week's BeFreeForMe's Friday Favorite honoree.
So snap to it and pick-up a package of these crunchy and snappy delights and give them a try yourself!
Want to try these cookies? Buy them on Amazon.com today!  Here's the link: Enjoy Life Chocolate Chip Crunchy Cookie, 7-Ounce (Pack of 6)
Tags: Enjoy Life Crunchy Chocolate Chip Cookies, Friday Favorites