Friday Favorite: Gluten-Free Café Pasta Primavera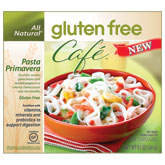 With the Fall season here the easy-going schedules of summer are a thing of the past. It seems that as soon as Labor Day is over, my schedule gets super-busy and I am again on the go… running here and running there.
That is why I'm a fan of Gluten-Free Café meals. A quick few minutes in the microwave, and lunch or dinner is done.
One of my favorite varieties is the Pasta Primavera. Featuring rice noodles, along with zucchini, carrots, green beans and red bell peppers tossed with a cheesy sauce. It's light and tasty and only 270 calories per package / serving.
Convenience on-the-go and tasty gluten-free  choices (other entrée choices include Asian Noodles, Fettuccini Alfredo and Lemon Basil Chicken) are the reasons why this week's BeFreeForMe's Friday Favorite goes to Gluten Free Café's Frozen Entrees. Cheers!