WIN-It-Wednesday: Kettle Cuisine Soups
On a day like today, when the snow is falling and the air is crisp, a big hot steaming bowl of soup can really warm your soul.

This is when I reach for Kettle Cuisine Soups. All natural and full of healthy and fresh ingredients, Kettle Cuisine soups are made just the way you or I would make them at home… with no shortcuts, no artificial ingredients. All ten varieties are also gluten-free, and several are also dairy-free, low-fat and vegetarian too. It's no wonder Kettle Cuisine's motto is "Eat Soup. Feel Good".
I reach for a Kettle Cuisine soup when I don't have the time (or energy!) to make my own big stock-pot of soup for dinner, or when I need a quick lunch at the office.  Plus, the convenient (no can opener required!), single serving bowls let me pick and choose what variety of soup or chili fits my fancy. My favorites though are the Grilled Chicken & Corn Chowder, and the Angus Beef Steak Chili with Beans. Found in the frozen food section of your favorite store (or even bought on-line), stocking up is easy too.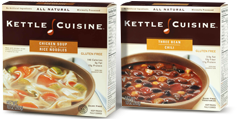 I'm a fan of Kettle Cuisine because of the homemade taste of all their soups and chilis.  Kettle Cuisine does not have that tin-canny mass-produced taste that many soups out there have. Kettle Cuisine is just good old fashioned soup – made the way we would ourselves.
Because of all these reasons, I am so excited that Kettle Cuisine Soups is this weeks WIN-It-Wednesday sponsor. They are offering two (Yes, 2!) LUCKY BeFreeForMe members a variety pack of Kettle Cuisine Soups!
How can you WIN?
Easy!
Reply to this blog and let us know how you warm your soul when the weather is blustery, windy, rainy (or snow-filled!). Me? I keep reminding myself that shoveling snow IS also a work-out … then treat myself to hot chocolate with tons of mini marshmallows.
Remember, all replies must be received by 12:00 midnight on Tuesday, January 27th, 2010.
Good Luck, Keep Warm… and as always,
Be Free!
Tags: Kettle Cuisine, Win-It-Wednesday