Friday, January 29th, 2010

One of my favorite ready-to-eat desserts is Kozy Shack Tapioca. I loved this stuff even before being diagnosed as a celiac.
Rich and creamy, with just enough sweetness – I'll even grab a cup as a morning snack, while checking my emails or planning my day.
And the best part is that all of Kozy Shacks puddings, flans, and gels are gluten-free; as well as manufactured in facilities that are free of peanuts and tree nuts. (However, according to the company website Most Kozy S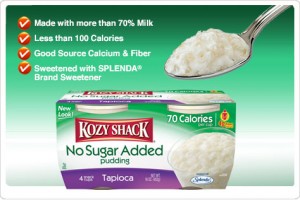 hack products contain milk, eggs, or other milk derivatives. So they recommend that you read each ingredient statement that clearly states any known allergens.)
My favorite is the 70 calorie No Sugar Added Tapioca… any dessert good for my middle is good for me!
With Kozy Shack, you can have your dessert and diet too!