Tuesday, December 1st, 2015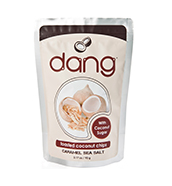 After one bite these snacks will have you saying, "Dang, that's good!" These toasted coconut chips are so unique, so incredibly tasty, crunchy and fun to eat. No more boring potato chips any more… coconut chips are just that dang good.
Dang Foods Coconut Chips are gluten free, vegan, dairy free, have no cholesterol, non-GMO and also a fantastic source of fiber.
I love that the ingredients are simple and natural too. My favorite variety, Caramel Sea Salt, is made with just three ingredients – Coconut, coconut sugar and sea salt.
Some other flavors include: Original, Lightly Salted & Unsweetened, Chili Lime and Savory Bacon. With such a vast array of sweet and savory flavors they are great for many uses including on ice cream, yogurt, cookie & cake toppings, trail mixes, salads and also crumbled on top a baked potato.
All these fabulous reasons are why I am sharing a bag of the Dang Foods Caramel Sea Salt Toasted Coconut Chips to two (yes 2!) randomly selected BeFreeForMe members who enter to win.
One (1) winner will be randomly selected from the entries received before Tuesday, December 8, 2015 at 11:59 PM EST, and one (1) more winner will be randomly selected to win from the entries received between Wednesday, December 9 and Tuesday, December 15, 2015 at 11:59PM. SO – make sure you enter two times to win!
How can you win?
Easy!
Reply to this blog and tell us which flavor of the Dang Toasted Coconut Chip looks the best to you (is it the traditional Original? The Slightly Salted and Unsweetened? The sweet and salty Caramel Sea Salt?  Or the spicy Chili Lime or Savory Bacon?
Good luck, enjoy the holiday season, and, as always …
Be Free!