WIN-It-Wednesday: Beanitos Chips (Plus BONUS Visa Gift Cards!)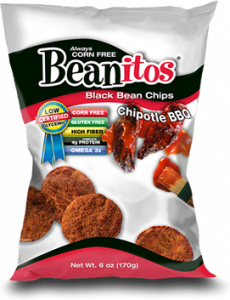 Beanitos Chips are a snack lovers dream come true! Beanitos are chips that fill you up with real, healthy and nutritious ingredients, which make them a delicious and smart alternative to corn and potato chips.
Beanitos are also lab tested and certified gluten-free (less than 3ppm), as well as free of corn, potato and soy.
When I first tried Beanitos I couldn't believe they were actually made from beans. Chips made from beans? But after one chip, I was sold. Crunchy and flavorful Beanitos come in four flavors… Black Bean, Chipotle BBQ Black Bean, Cheddar Cheese Pinto Bean and my favorite, Pinto Bean & Flaxseed.
This got me scratching my head and wondering – why beans? Why make chips out of beans? Well, according to the folks over at Beanitos, it's no secret that beans are loaded with health benefits – high in fiber, protein and complex carbohydrates – but are sadly underused in the typical U.S. diet. So they decided to give us all our daily dose of healthy, nutritious beans in a fun, crunchy and tasty chip! Obviously, the folks over at Beanitos used their "beans" to come up with this great tasting chip.
Because these chips are made from beans they contain 5 grams of fiber per ounce – this is why they fill you up and leave you feeling more satisfied than the regular old boring potato, corn or wheat based chips. They are also low-glycemic, which is important since low-glycemic foods contributes to good health and can help curb obesity, diabetes, cancer and heart disease!
Now the question I am sure that some of you are wondering but are too shy to ask in a comment on this blog post … Ahemmm … here goes… "Will eating Beanitos give me gas, toots, stinkers, wind, passing of gas — or whatever you may call it?"  Well – the answer is NO! Beanitos will NOT give you gas. Beanitos developed a natural proprietary process that eliminates the common side effects some people associate with eating beans or bean-based products. So… round up your friends and share a bag!
For all these wonderful reasons – We are thrilled that Beanitos is this week's sponsor of BeFreeForMe's WIN-It-Wednesday. FOUR (Yes 4!) lucky BeFreeForMe members will receive an assortment of Beanitos Chips, PLUS a Bonus $15 Visa Gift Card!
How can you win?
Easy!
Reply to this blog post and tell us how you use your "bean" to stay healthy and fit.  (Me? I schedule exercise into my week – and treat that time like I would a very important appointment or meeting – so I don't break my promise to myself to work-out!)
There are also TWO chances to WIN these WIN-It-Wednesday prizes. One is between Wednesday, February 9 and Tuesday, February 15th  (12 Midnight EST) and the second is between Wednesday, February 16th and Tuesday, February 22th (12 Midnight EST). Two winners will randomly be selected each week. So make sure you respond two times to this post!
Good Luck, Use your bean… But follow your heart… and as always,
Be Free!
Tags: Beanitos chips, Beanitos corn free, Beanitos gluten free, Win-It-Wednesday