Friday Favorite: Nut-Free & Gluten-Free Sun Cups
I discovered these phenomenal Sun Cups last Fall at the Natural Products Expo in Boston, and it was love at first bite.
These Reese-Peanut-B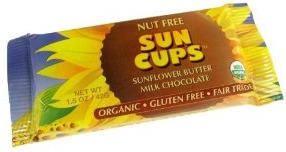 utter-Cup-Like candies are made with Sunflower Butter, instead of Peanut Butter…  and are to die for. These rich and creamy Sun Cups are also nut-free (peanut & tree nut) and gluten-free too. These delights are made with melt in your mouth chocolate and are also organic.
Sun Cups come in Milk and Dark Chocolate, and are perfect for Valentine's Day. They come two cups in a package… just right for sharing with your love.
Rich, creamy and melt in your mouth goodness are some reason this week's BeFreeForMe's Friday Favorite goes to peanut-free and gluten-free Sun Cups!
Where to buy? Check out the following link:
Sun Cups, Sunflower Butter with Milk Chocolate, 1.5-Ounce Packages (Pack of 20)
Tags: Friday Favorite, Sun Cups gluten-free cups, SUn Cups nut free cups