WIN-It-Wednesday: Double the Prizes! Livefreeda Gluten-Free Meal Plan Contest PLUS Free Product Giveaways!
Do you often wish you could just click your heels and fill your cabinets with a month's worth of gluten-free meals… dinners, lunches, breakfasts, desserts and snacks? Now,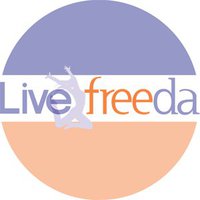 thanks to Livefreeda all you need to do is click your mouse and have some of the best gluten-free products, arrive at your door!
No fuss… No trouble… No running from market to market to gather up all my favorite gluten-free brands.
The LiveFreeda 28-day gluten-free meal kit is packed with the best gluten-free foods out there… including many of my favorite brands. Brands that have been BeFreeForMe's Friday Favorites including:  Udi's bread and bagels, Van's Waffles, Glutenfreeda Burritos, Kettle Cuisine Soups & Chili, Nature's Path Cereal, Organic Bistro Meals and Pamela's Cheesecakes To name just a few.
Breakfast, lunches, dinners, desserts and snacks that I love… for about $13 per day… Shipping included!
And with no measuring, mixing or cooking required – LiveFreeda is great for kids in dorm rooms, school or office lunches and traveling.
After hearing about this new gluten-free meal plan, I thought about how great it would have been if Livefreeda was around when I had first gotten diagnosed with celiac disease. But in actuality, Livefreeda is a good, convenient way to get gluten-free foods for anyone. I plan on ordering a package myself and have it shipped to my family's house that lives out of state next time I visit for an extended stay. No more searching for my favorite gluten-free foods while on vacation!
This week's WIN-It-Wednesday is a Double-WIN!
First off, make sure you register to win one of the 30 (YES… THIRTY!) 28-day Livefreeda Gluten-Free Meal packages.  Each of these packages is a $400 value! Remember you must log onto the Livefreeda Contest site in order to enter to win one of these fantastic thirty prizes!
The second way to WIN is right here on BeFreeForMe! Respond to this post and tell us your thoughts on the LiveFreeda Meal Kits and why they'd be perfect for you! Several LUCKY BeFreeForMe members will win one of the prize packs sponsored by the manufacturers of products included in the Livefreeda meal kits. This prize will include an assortment of freebies… product, coupon and giveaways! There are TWO Chances to WIN one of these several prizes! One is between Wednesday, January 12th  and Tuesday, January 18th and the second is between Wednesday, January 19th and Tuesday, January 25th. So make sure you respond two times to this post!
Good Luck, Live Free(da)… and as always,
Be Free!
Tags: Gluten-free meal delivery, Livefreeda, Livefreeda contest, Win-It-Wednesday