WIN-It-Wednesday: Arbonne Skin Care – Free Samples, Prizes and 20% OFF!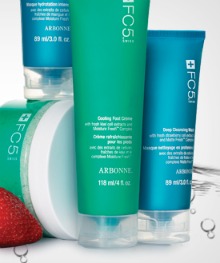 Fall is here, and the days are inevitably getting shorter and colder. This is the time of year that many of us develop dry skin, and we need to treat it with a little TLC.
That is why I called my Arbonne rep, Krissy. I asked her to help me out and give me suggestions on any skin care products that were gluten-free and could assist in making my skin smooth and nourished. She suggested a ton of Arbonne products that I have used in the past  but also gave me some free samples of the new FC5 product line.
Like all of the other Arbonne skincare products (with the exception of the vitamins and hormone cream), the FC5 line is gluten-free, as well as free of synthetic fragrances; dyes, PABA and mineral oils. They are also pH correct and are botanically based.
But as I've said in the past what I love the absolute most about Arbonne is my rep, Krissy.
A number of years ago, Krissy was diagnosed with celiac disease too. She lives a strict gluten-free lifestyle along with her family, many of whom are also celiacs.
Krissy "gets it" and she understands when you're adamant about getting body care products, sunscreens, make-ups and lip balms that are free of gluten! She's also very generous when it comes to getting free samples of products you're interested in trying and she ships my orders direct to my door…. Whenever I need them! (No malls… no stores… no snooty make-up counter girls that have no clue about gluten and allergens!)
If you would also like to receive FREE samples of the FC5 Moisturizer and Body Wash be one of the first 30 people to enter this week's WIN-It-Wednesday on BeFreeforMe.com (NOTE: You MUST be a Member of BeFreeForMe to win!). Krissy is also offering one randomly picked winner a grand prize-package which consists of four (4) full-sized bottles of the FC5 product line! This includes Hand Cream, Foot Cream, Moisturizer and Body Wash.
How can you WIN?
Easy!
Reply to this blog and tell us what reminds you of how beautiful your life is. (Me? I have so many! But here are a few: Laughing with my friends until my belly hurts; Crisp fall air and the spectrum of vibrant leaves gracing the hills in the town I live; and seeing Sadie "The Incredible Boxer" smile… Yes – she DOES Smile!). All entries must be received by 12 midnight EST on Tuesday, 10/26/10.
Also… For the month of October, Celiac Disease Awareness Month, Krissy is offering BeFreeForMe.com members 20% OFF ALL Arbonne products!
If interested, contact Krissy directly.
Good Luck, Remember to always find the beautiful things in life, and… as always…
Be Free!
Tags: Arbonne Gluten Free, gluten free body care, Gluten free lipstick, gluten free makeup