WIN-It-Wednesday: For Jackie Home Baked Cookies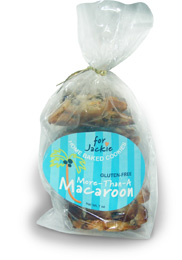 Cookies should be sweet and chewy. Period. The type of cookie that leaves you wishing for a second. A gluten-free cookie that is worth every single calorie. Basically – I want the cookies I eat to be worth it.
That is why I am so excited to once again have Jackie Home Baked Cookies as this week's BeFreeForMe WIN-It-Wednesday sponsor! These cookies are jammed packed with chocolate and coconut. Sweet and chewy perfection!
I think that I love these cookies so much because they are a cross between two of my all time favorite cookies: Chocolate Chip and Macaroons. Appropriately named "More than a Macaroon" they are the perfect combination of nutty coconut and sweet chocolate. The best of both worlds.
These cookies are also extra special because they are made by a Mom & Dad on a quest to make the best cookie possible for their daughter, Jackie, who was diagnosed with celiac disease several years ago. These parents started baking up all of their favorite recipes gluten-free to adapt to their daughters new lifestyle, when they stumbled upon what they describe as "… the creation of a caramelized, coconut confection that tasted like nothing we had ever had. It took macaroons to new heights and was a true decadent experience."
And decadent these cookies are. Just one and you will be hooked – so beware. Don't say that I didn't caution you. Also, I am warning you that gluten-eaters will love these too. So determine your hiding place for these cookies before you bring them into your home.
These decadent clusters of sheer joy are this weeks WIN-It-Wednesday sponsor. Two (yes 2!) LUCKY BeFreeForMe members will win a double-pack of For Jackie Cookies.
How can you win?
Easy!
Reply to this blog (make sure you are a BeFreeForMe member if you want to win!) and let us know why you, your family or even your life in general can be a little nutty, or a little sweet… or both!  (Me? I'm a little nutty because I actually like taking walks in the rain, and I can be sweet when I take my incredible boxer, Sadie, for 2 walks a day… instead of just one).
All entries must be received by Monday, November 1, 2010 by 5 PM EST.
Good luck, Be slightly nutty, but constantly sweet, and… as always…
Be Free!