Friday Favorite: Bakery On Main's New True Bar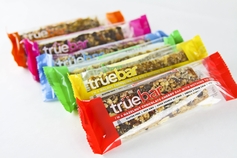 Bakery on Main's newest addition to their gluten-free line-up is a product I truly love. The True Bar.
And loving these bars so much has prompted me to add my own thoughts onto the phrase "Nothing to hide" True Bar's  tagline .
My addition: "Nothing to hide… but SO much to seek."
These gluten-free bars are made with natural ingredients and are a perfect choice for those seeking out a quick on-the-go snack. True Bars are also also a good source of fiber and Omega 3, made with many low-GI ingredients, non- GMO, dairy and casein free. Low in sodium and with no transfat or cholesterol, these bars are also certified gluten free and Kosher Parve.
Chew, yet crunchy, True Bars come in six fun, interesting and tantalizing flavors: Apricot Almond Chai, Walnut Cappuccino, Fruit & Nut, Hazelnut Chocolate Cherry, Raspberry Chocolate Almond and my personal favorite, Coconut Cashew. Nothing boring about these bars!
So seek them out for yourselves and see why this week's Friday Favorite on BeFreeForMe goes to Bakery on Main's new Truebars!
Note: Enjoy FREE shipping on the Truebar's for a limited time. Individual bars or by the sleeve of twelve for a 25% saving!
Tags: Bakery on Main, Friday Favorites, Gluten-free snacks, True Bars