WIN-It-Wednesday: riceworks® Gourmet Brown Rice Crisps & Wild riceworks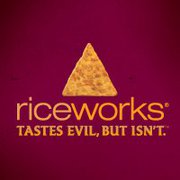 It's Wednesday and time for yet another WIN-It-Wednesday! The sponsor of the next two week's contest is one of my all time favorite snacks… riceworks Brown rice crisps.. and their newest addition… WILD riceworks – a combo of brown and wild rice.
I know by now many of you have had the opportunity to try riceworks® Gourmet Brown Rice Crisps, but if you haven't tried them yet – or if you haven't tried the new Wild riceworks…  you really need to!
The reason why I love these crisps so much is because they are a cross between a chip and a cracker. Crunchy and salty enough to replace potato chips, yet firm enough to handle any dip, hummus or piece of cheese – these crisps are rice – and they work!
They also come in six yummy flavors… Sea Salt, Sweet Chili, Salsa Fresca, Parmesan, Tangy BBQ and the new MUST TRY variety –  Wild riceworks.
The flavors have something for everyone… sweet, savory, and salty. Plus they are gluten-free, all natural, have no preservatives or artificial flavors, no trans fats, plus they are vegan and kosher friendly. They taste sinful… but aren't!
The new Wild riceworks contain all natural whole grain wild & white rice… and has over 12 grams of whole grains per serving. This newest addition to the riceworks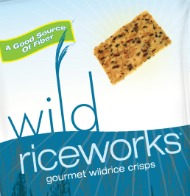 family is almost more flatbread-like than the other ricework varieties, so they are perfect for scooping, spreading and stacking your favorite toppings. They also have had a favorable "two-thumbs-up" review from every person I know that has tried them. I encourage you to give them a try!
And if you haven't done so yet, check out riceworks page on Facebook. They have a great promotion going where folks can "Confess their snacking sins" and get a $1.00 off coupon for a bag of riceworks.
Another nice thing about riceworks® Brown Rice Crisps is that they work with my busy lifestyle. You can find them almost anywhere – Wal-Mart, Super Target, Costco, BJ's Wholesale Clubs, Stop & Shop, Shaw's and Pathmark, to name just some of the locations.
Needless, I was thrilled when the folks at riceworks® asked to sponsor the prize package for the next two week's WIN-It-Wednesday. Six winners (three each week) will each win a gift pack containing 6 bags – one of each flavor, including the new Wild riceworks. Three (3) winners will be chosen from all entries received before Tuesday, October 11, 2011 at 11:59 PM EST and another three (3) winners will be chosen from all entries received between Wednesday, October 12 and Tuesday October 18, 2011 at 11:59 PM EST. So make sure you enter to win two times!
How can you win?
Easy!
Reply to this blog (make sure you are a BeFreeForMe member if you want to win) and let us know your snacking sins (Me? I confess my candy guiltiness… Gummy Bears and caramels!)
Good luck, remember some things (like riceworks) can be sinful but still good for you, and… as always…
Be Free!
Tags: Confess Your Snacking Sins, Gluten-free snacks, riceworks brown rice crisps, riceworks coupon, Win-It-Wednesday