Tuesday, January 27th, 2015
This week's Win-It-Wednesday is in honor of the upcoming Super Bowl Sunday show-down coming up this weekend! The Super Bowl is all about football, and let's face it… snacking!
Some of our favorite snacks over here at BeFreeForMe are dips and spreads. Sure, we are able to smear and spread these dips on carrot and celery sticks, but gluten-free crackers are so much better. And three of our favorite gluten-free cracker brands will be included in the prize pack for this Win-It-Wednesday compliments of BeFreeForMe.com
What are these three brands? Blue Diamond Nut-Thins, Mary Gone Crackers, and Mediterranean Snacks Hummuz Crackers. All of these brands are gluten-free and found in most larger grocery stores.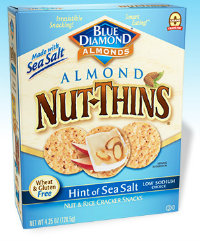 Blue Diamond Crackers are loaded with nutritious almonds (or pecans) and are baked to a crispy crunch. With 2-3 grams of protein per serving, these crackers are my favorite with cheese and crackers or paired with our Pimento Cheese Dip. My favorite flavor? The traditional Hint of Sea Salt.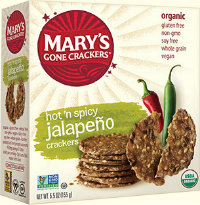 Mary Gone Crackers are not only gluten-free, but also organic, non-GMO, soy free and vegan. These whole grain crackers come in a bunch of flavors that can tantalize any taste-bud. One of our go-to favorites snacking combos is the Hot & Spicy Jalapeno Mary Gone Crackers with our Layered Mexican Dip.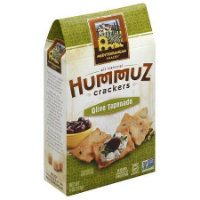 Last, but not least, are Mediterranean Snacks Hummuz Crackers. Made with real Garbanzo beans, these crackers pack a healthy protein punch. I love the Olive Tapenade Hummuz Crackers paired with our Goat Cheese & Olive Spread, or our Feta Cheese Dip. These crackers are a must try!
All of these wonderful gluten-free snacking ideas make this week's Win-It-Wednesday a delicious reason to enter to win!
A total of two (yes, 2!) BeFreeForMe.com members will be randomly selected to win a variety prize pack of these crackers! One (1) winners will be randomly selected from the entries received before Tuesday, February 3, 2015 at 11:59 PM EST, and one (1) more winner will be randomly selected to win from the entries received between Wednesday, February 4 and Tuesday, February 10, 2015 at 11:59PM. SO – make sure you enter two times to win!
How can you win?
Easy!
Reply to this blog and tell us what gluten-free cracker is YOUR favorite (is it one of the three listed above… or do you have another favorite we need to know about?)
Good luck, it's ok to be a little crackers…  and, as always …
Be Free!