Friday Favorite: Orgran Crispibread with Quinoa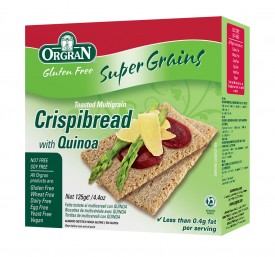 These crispy, tasty cracker-like breads are one of my go-to's when I need to pack a quick snack or lunch on the go.
Orgran Toasted Multigrain Crispibreads with Quinoa are the perfect size to make mini "sandwiches" filled with cheeses, cold cuts, fresh sliced veggies or smeared with hummus.
I love these gluten-free crispibreads because they are also free of nuts, soy, dairy, egg and yeast… plus they are vegan too.
The gluten-free Orgran Crispibreads get this week's BeFreeForMe's Friday Favorite since they are perfect for back-packs, picnics or pick-me-up snacks!
Want to buy? Check out the product on Amazon.com: Orgran Toasted Multigrain Crispibread with Quinoa, 4.4-Ounce Boxes (Pack of 6)
Tags: Friday Favorites, Orgran Crispibreads, Orgran gluten free