Friday Favorite: Tasty Brand Organic SuperFruit Snacks
Fun, Fruity and packed with vitamins the Tasty Brand SuperFruit snacks are a gummy and yummy hit.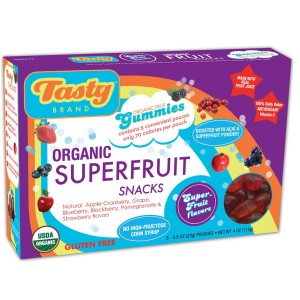 I love these snacks since they are made with real fruit juice and contain no high-fructose corn syrup. Plus they are organic,  gluten-free, vegan, fat & cholesterol free and made with no artificial colors, flavors or preservatives. They come in two types: SuperFruit and Fruit.
The SuperFruit Snack snack-packs contain 70 calories worth of deliciousness – that are far better than any gummy candies or jelly beans. They are perfect as a quick snack at your desk, in the car or for a little pick-me-up as a hold-over until your next meal.
And it seems that I'm not the only one digging these little snacks of delicious goodness: Oprah Winfrey just featured these snacks in her magazine that hit newsstands this week too. Hmmm… I guess great minds think alike!  =)
The healthiness, taste and convenience are the main reasons why Tasty Brand Organic SuperFruit Snacks are this week's Friday Favorite on BeFreeForMe.com.  Found easily on Amazon.com – with FREE SuperSaver Shipping – these snacks are worth every gummy bite! Congratulations!
Get Tasty Brand Organic SuperFruits on Amazon.com (FREE SUPER SAVER SHIPPING!) =)
Here's the Link to Amazon:
Tasty Brand Organic Fruit Snacks, Mixed Fruit Flavors, 4-Ounce Boxes (Pack of 6)
Tags: Friday Favorites, gluten-free gummy snacks, Tasty Brand Organic SuperFruit Snacks