Friday Favorite: Shelton's Turkey Jerky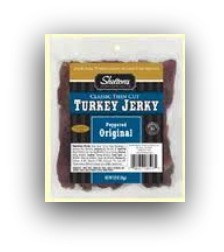 I rediscovered Shelton's Turkey Jerk a few weeks back at a large Natural Food trade show.  Amongst all the sweets and treats that lurked at almost every booth, there was a hidden gem awaiting… a snack that is savory and a bit spicy, that is full of protein and tasty too.
Welcome Shelton's Turkey Jerky!
This gluten-free jerky is made from turkeys raised without antibiotics. And not only are they gluten-free they are also casein-free too. Plus, all of the Shelton Turkeys are free-range. And besides the jerky, Shelton's also makes other gluten-free items.
I also LOVE the fact that one .5 ounce serving has only 50 calories!
So this Holiday season, enjoy your turkey jerky style and check out Shelton's for yourself! Congrats to Shelton's on being selected as this week's Friday Favorite on BeFreeForMe.com!
Want to buy Shelton's Turkey Jerky? It's available on Amazon.com with FREE Super-Saver Shipping! Check out the link here: Shelton's Turkey Jerky