Tuesday, November 1st, 2011
This Win-It-Wednesday contest on BeFreeForMe is sponsored a delicious and healthy cookie that is perfect for everyone – including those with food allergies, sensitivities and celiac disease.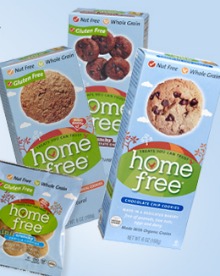 Not only do I love these cookies, but I also the story behind the cookies. HomeFree cookies are baked with love, and developed by a Mom, Jill Robbins, who understands how important it is for kids with food allergies and sensitivities to feel included during social occasions, where sweet treat are often part of the fun.
HomeFree cookies come in several varieties which are all free of peanuts, tree nuts, eggs and dairy. Most are also free of gluten and are certified by the GFCO.
The varieties that are gluten-free include: Chocolate Chip, Chocolate Chocolate Chip (my favorite!), Oatmeal, Oatmeal Chocolate Chip, and the Mini Vanilla Cookies, which are also 70% organic and can tout a few awesome awards including being a finalist in the Best New Food category at the Natural Products Expo East 2011 (the 2nd largest natural food show in U.S.) and being the winner of the 2011 Best Snack Award by Shape magazine.
The name of these cookies, HomeFree, is so very fitting for what these cookies are – and for what they stand for. HomeFree make cookies are safe, and without problems for those that are on a gluten-free diet, or are concerned with other food allergens or sensitivities.  These cookies are made in HomeFree's own dedicated facility free of peanuts, tree nuts, eggs and dairy with allergen sourced and tested ingredients.
HomeFree cookies are also a certified good source of whole grain (trust me… the kids won't even notice!)  Every cookie (or 6 minis) provides at least ½ serving of the 3 recommended daily servings… amazing for a delicious cookie! Also, all HomeFree products are all natural and non-GMO.
I also like that these cookies come in "mini" sizes… which are perfect for little hands and pack up so sweet in lunch pails.
All these reasons are why I am SO excited that HomeFree Treats is sponsoring the next two week's WIN-It-Wednesdays on BeFreeForMe.com. Four winners will win a box of HomeFree Gluten-Free Cookies.  Two (2) winner will be chosen from all entries received before Tuesday, November 8, 2011 at 11:59 PM EST and another winner will be chosen from all entries received between Wednesday, November 9 and Tuesday November 15, 2011 at 11:59 PM EST. So make sure you enter to win two times!
How can you win?
Easy!
Reply to this blog (make sure you are a BeFreeForMe member if you want to win) and let us know what variety of HomeFree Cookies sound the best to you (or for your kids!)
Good luck…strive to be on that home free stretch… and… as always…
Be Free!
P.S. Want to Buy? Check out the online store at the HomeFree website!