Tuesday, May 2nd, 2017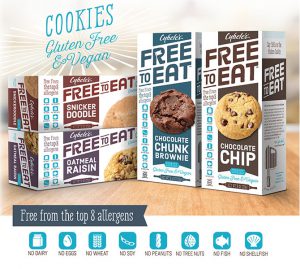 Finding a cookie that is gluten-free and free of the top 8 allergens can be tough. Throw into the quest a cookie that tastes good, and the hunt becomes almost impossible.
But thanks to Cybele's Free-To-Eat Cookies everyone on a gluten-free diet or those that are concerned with the top 8 allergens – Dairy, Eggs, Wheat, Soy, Peanuts, Tree Nuts, Fish and Shellfish – can enjoy a delicious, soft and sweet treat … worry free.
These cookies are made by a mom of a food allergic family, Cybele Pascal (on a side note… Cybele is a remarkable woman! Make sure you check out Cybele's blog for some delicious recipes and her "Allergen-Free Bakers Handbook" cookbook for some great allergen-free baking tips and recipes!) The cookies are also vegan – and come in four flavors: Chocolate Chunk Brownie, Chocolate Chip, Oatmeal Raisin, and my favorite, SnickerDoodle. Cybele's Cookies are also baked in a dedicated gluten-free and allergy-friendly facility.
O.K. – I know by now many of you are also thinking that these cookies must be free of flavor too. But, a-ha, you are wrong my friends. These cookies are soft (like, really, really soft… which I love), moist, full of raisins, chocolate chips & chunks and all the other fixins'. So they are a perfect worry-free, tasty treat for those on a gluten-free diet, celiac disease, or with food allergies. But beware! The non-gluten-free and non-food-allergic peeps in your household will be gobbling them up too… they are just that good.
For being able to enjoy a super tasty cookie that is worry free when it comes to gluten and allergens, is the reason why I am so very excited to have Cybele's Free-To-Eat Cookies as the prize for this Win-It-Wednesday on BeFreeForMe.com.
Two (2) lucky winners will each receive a box of Cybele's Free To Eat Cookies. One (1) winner will be randomly selected from all comments/entries received before Tuesday, May 9, 2017at 11:59 PM (EST) and one (1) more winner will be randomly selected from all comments/entries received between Wednesday, May 10 and Tuesday, May 16, 2017. So make sure you enter TWO TIMES to win!
How Can You Win?
Easy!
Reply to this blog and tell us which Cybele's Free To Eat Cookie looks the sweetest to you (Chocolate Chunk Brownie, SnickerDoodle, Chocolate Chip or Oatmeal Raisin). Good luck, sweetness to all of you, and, as always…
Be Free!
P.S. – Join me and connect with Cybele on Facebook and Twitter!