Thursday, July 12th, 2012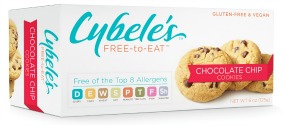 Yay! It's Friday again! This week seemed extra long and Friday couldn't seem to get here fast enough. But finally the end of the week has arrived and it's once again time for the Friday Favorite on BeFreeForMe.com.
This week's Friday Favorite is another sweet treat.  Cybele's Free-To-Eat Cookies. These cookies are not only gluten-free and vegan – but also free of the top 8 allergens – Dairy, Eggs, Wheat, Soy, Peanuts, Tree Nuts, Fish and Shellfish. They come in three flavors: Chocolate Chunk, Chocolate Chip, and my favorite, Oatmeal Raisin.
O.K. – I know by now many of you are also thinking that these cookies must be free of flavor too. But, a-ha, you are wrong my friends. These cookies are soft (like, really, really soft… which I love), moist, full of raisins, chocolate chips & chunks and all the other fixins'. They're a really treat for those on a gluten-free diet, celiac disease, or with food allergies.
But the true taste test is that the non gluten-free and food allergic peeps gobbled them up quick too.
These cookies may be free of many things, but they mean business when it comes to being a cookie that doesn't make you a prisoner to celiac disease and food allergies. Cheers to you Cybele's Free-To-Eat Cookies!
All these tasty reasons are why I am so very thrilled to award Cybele's Free-To-Eat Cookies this week's Friday Favorite on BeFreeForMe.com. Congrats!
P.S. It seems these cookies are just making their way onto supermarket shelves. Be patience. It will be worth the wait once they arrive!