Friday Favorite: Ian's Chocolate Chip Cookie Buttons… Allergen-Free!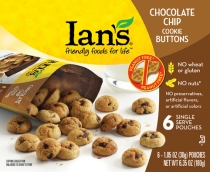 If you're looking for a little tiny snack with a big punch reach for a bag of Ian's Chocolate Chip Cookie Buttons.
These tiny chocolate-packed cookies are perfect for the kiddo's little fingers or for the big kid's afternoon snacks.
I also love that you can pop a few of these crunchy Chocolate Chip Cookie Buttons into your mouth and have a tiny bite-sized cookie to satisfy any sweet tooth, without the super-sized calories!
These cookies are also allergy friendly and are now certified peanut free. Each box contains six (6) convenient 1-ounce individual portions which make them perfect for lunch boxes, to sneak into your purse, or for after school snackswhile you're on the go.
All of these allergen-friendly and tasty reasons are why these Ian's cute-as-a-button cookies are being awarded this week's Friday Favorite on BeFreeForMe.com. Congratulations!
Tags: allergen free cookies, cookie buttons, gluten and penaut free cookies, Ian's Chocolate Chip Cookie Buttons, peanut free cookies