Friday Favorite: Nana's Cookie Bars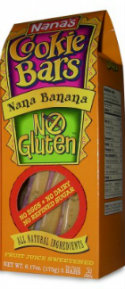 I love Nana's soft, chewy cookie bars. Unlike some gluten-free cookies, they are moist and delicious – perfect for tea-time or snack-time.
These gluten-free, dairy-free, soy-free and egg-free cookie bars are also non-GMO and are certified gluten-free. The flavors are awesome too: Berry Vanilla, a classic vanilla cookie with a touch of berry; the Chocolate Munch, a chocolate lover's cookie paradise; and my favorite, the Nana Banana, packed with real banana-y goodness.
Nana's also makes some great cookies too. Soft and chewy, as well, some of the gluten-free flavors include Chocolate Crunch, Ginger and Lemon. They are also free of the same allergens as the cookie bars.
I also love that both the cookie bars and the cookies are individually wrapped, which means they stay fresh longer and can be transported easily in a purse, back-pack or lunch tote.
All these delicious gluten-free and allergen-free reasons are why I am so excited that Nana's Cookie Bars are awarded this week's Friday Favorite on BeFreeForMe.com! Congrats!
Want to buy? Check out this link on Amazon.com
Tags: Friday Favorites, Gluten free cookies, Nana's Cookie Bars