Win-It-Wednesday: Enjoy Life Foods Baking Chocolate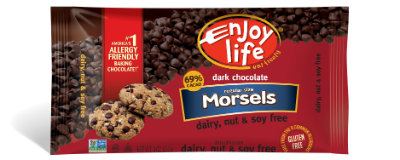 Chips, and Chunks, and Morsels… Oh My!
Yes… the holiday's are here, so fire up those ovens and get baking my friends!
And when ogling and goggling over all of the delicious cookies, cakes, bars, breads & muffin recipes in magazines and on Pinterest and blogs, remember that Enjoy Life Foods makes baking gluten & allergen free so much easier with their Baking Chocolate.
The Enjoy Life Food products are all free of gluten and the 8 most common allergens, including dairy, peanuts, tree nuts, egg, soy, fish and shellfish. But do not fret… these chips, chunks and morsels are full of premium semi-sweet and dark chocolate. The taste is melt-in-your-mouth chocolaty goodness, making them perfect for melting and  for baking your favorite recipes.
Enjoy Life Foods knows that baking gluten and allergen free can be a challenge… and that's why they came out with these products. I love that we can all count on Enjoy Life Foods, and that they have all of us, and our holiday baking, covered.
So when you're looking for a semi-sweet mini chocolate chip to sprinkle over that super-moist banana bread; a regular sized morsel of a dark chocolate chocolate chip for your famous traditional gluten-free triple chocolate brownies, or a big semi-sweet chocolate mega-chunk for your cookies … look no further than Enjoy Life Foods Baking Chocolate.
All of these delicious and chocolaty reasons are why I am so excited that Enjoy Life Foods is the sponsor of this Win-It-Wednesday on BeFreeForMe.com!
Two winners will each receive a prize pack containing SIX (yes… 6!) bags of the Enjoy Life Foods Baking Chocolates (Two bags of each of the three varieties: Mini Chips, Mega Chunks and Morsels).  One (1) of the winners will be randomly selected from all comments / entries received before Tuesday, November 19, 2013 at 11:59 PM (EST), and one(1) more winners will be selected from all comments / entries received between Wednesday, November 20, 2013 at 12:00 AM (EST) and Tuesday, November 26, 2013 at 11:59 PM (EST).
How can you win?
Easy!
Reply to this blog and tell us which of the Enjoy Life Foods Baking Chocolate looks the best to you. Is it the big super-duty Mega-Chunk? The tiny petite Mini Chips? Or the traditional Morsels? (Me? The Mega-Chunks – big, chunky, pure chocolate chunks that are perfect in my favorite allergen-free Chocolate Chip Cookie recipe – or even eaten right out of the bag for a quick little morsel "hit" of chocolate when those chocolate cravings strike… and just a little chunk will do ya.)
Good luck, always remember as Charles M. Schulz said, "All you need is love. But a little chocolate now and then doesn't hurt" and as always…
Be Free!
Want to buy now? Check out these links on Amazon.com:
Enjoy Life Semi-Sweet Chocolate Chips, Gluten, Dairy, Nut & Soy Free, Mini Chips, 10-Ounce Bags (Pack of 6)
Enjoy Life Semi Sweet Chocolate Mega Chunks, 10-Ounce (Pack of 6)
Tags: allergen free baking supplies, Gluten and allergen free chocolate chips, gluten-free baking supplies, gluten-free holiday baking ideas