Friday Favorite: Goldbaum's Quinoa Crisps and Flatbread Crisps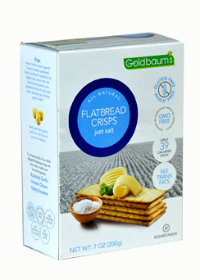 The holidays are almost here, and so are the dinner parties, cocktail parties and get-togethers.
And sometimes it's hard to find good gluten-free ideas for appetizers and finger-foods. But after I found these two new Goldbaum products, the Quinoa Crisps and Flatbread Crisps, my mind got reeling with tons of great appetizer ideas that are perfect for both the gluten-free and the non-gluten-free folks.
The quinoa crisps are perfect for dipping, dunking and devouring… one single crisp at a time. These bite sized delicate and delicious multigrain crisps are gluten, preservative, MSG, Trans-fat and additive free. They are also non-GMO, kosher and have only 100 calories per serving. The flavors are fantastic too, and lend themselves well to finger foods. Try the Sea Salt flavor with a tangy tapenade like this Allergen-Free Olive Tapanade; the Onion & Garlic flavor with a Veggie Cream Cheese Dip, and the Barbeque flavor on the side of barbeque buffalo wings, and blue cheese dip. Watch out though. These quinoa crisps are additive.
The Flatbread Crisps are perfect for topping, garnishing, and relishing… the possibilities with these crackers are endless! They come in four flavors: Just Salt, French Onion, Nutty Sesame and Roasted Garlic. These flatbread crackers are unlike any other gluten-free product I have found. I love them… since they can be used for an assortment of appetizers and starters instead of bread. I can't wait to try them this holiday season in replacement of baguettes in my gluten-free crostini recipes. They are also under 40 calories each, are gluten and GMO free and also have no Trans fats.
For debuting these delicious and convenient new snacking crackers for the holiday season, this week's BeFreeForMe's Friday Favorite  is awarded to Goldbaum's! Thank you and… congratulations!
P.S…. If you can't find these two new products at your grocery store, ask them to order!
Tags: gluten-free appetizer ideas, Gluten-free flatbread, Goldbaum's Flatbread Crisps, Goldbaum's Quinoa Crisps