Win-It-Wednesday: Lucy's Gluten, Nut, Milk & Egg Free Cookies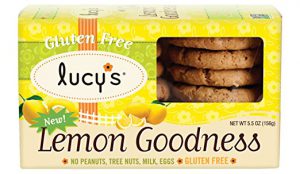 This week's WIN-It-Wednesday on BeFreeForMe.com is one of my favorite gluten-free cookie companies that is founded by one smart cookie herself, Dr. Lucy Gibney.
Lucy's is founded by a doctor that got down to some serious medical research – in the kitchen – because her child had severe food allergies.  What began as a mother's tasty recipe for her child has developed into a delicious alternative for people with (or even without!) special dietary considerations. Not only are Lucy's Cookies gluten-free, they are also free of peanuts, tree nuts, milk and eggs. They are also vegan.
And even though Lucy's Cookies are free of gluten and other common allergens, they aren't missing out on flavor and tastiness. They are full of crunchy, airy cookie goodness, that makes them perfect for old-school milk dipping or classic ice cream sandwiches.
My most recent craveable dessert is sandwiching one of my favorite ice cream flavors, Black Raspberry, between two of Lucy's Ginger Snap cookies. The spiciness of the cookies and the berry-creaminess of the ice cream is a match made in gluten-free heaven.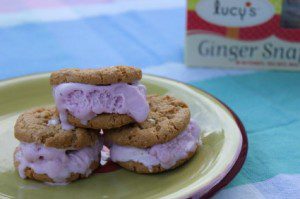 And with only 120 calorie for three (YES 3!) cookies, 0 mg cholesterol, and 0 g tans fat – my most recent favorite dessert is even sweeter!
The flavors of Lucy's cookies goes beyond the ordinary too. As well as toting a bake sheet of traditional favorites, Lucy's also offers some tantalizing flavors for the adult palate. Some include Ginger Snap, Maple Bliss, and Chocolate – as well as Oatmeal, Chocolate Chip, Cinnamon Thin and Sugar.
A total of two(2) BeFreeForMe members will be selected to win a two-pack of  Lucy's Cookies.  One winners will be randomly selected from the entries received before Tuesday, October 25, 2016 at 11:59 PM EST, and one more winners will be randomly selected to win from the entries received between Wednesday, October 26 and Tuesday, November 1, 2016 at 11:59 PM. SO – make sure you enter to win two times!
How can you win?
Easy?
Reply to this blog and share a tip, suggestion, hint, or recipe idea about being gluten-free and / or allergen free that makes you a smart-cookie (Me? Using my smartphone at the supermarket to take photos of (and to remember!) new gluten-free products I discover to research reviews online AND always making double of recipes to have extra for lunches!)
Good luck, remember always to be that one smart-cookie you just know you are… and as always,
Be Free!
Follow Lucy's Cookies on Facebook: https://www.facebook.com/DrLucys
Follow Lucy's Cookies on Twitter @lucys_tweets
Want to buy Lucy's Cookies? Check out this link on Amazon.com and take advantage of free SuperSaver Shipping:
Lucy's Lemon Cookies
Tags: allergen free cookies, Dr. Lucy's Gluten-free Cookies, Gluten free cookies, Win-It-Wednesday