Thursday, October 23rd, 2014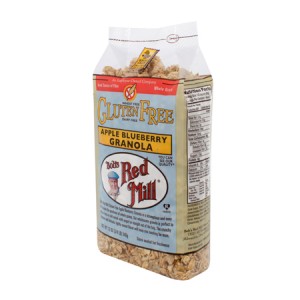 Bob's Red Mill Apple Blueberry Granola is a quick and easy breakfast that is loved by all.
Packed with whole grain gluten-free oats, it is a perfect way to start your day and fill your belly. I love to sprinkle some on top of my favorite yogurt or cultured coconut milk, or even enjoyed traditionally by being poured in a bowl and enjoyed topped with milk and fresh cut fruit.
Another bonus is that this crunchy cereal is easy to find, since it is carried by most major grocery stores.
All of these reasons are why this week's Friday Favorite is awarded to Bob's Red Mill's Whole Grain Apple Blueberry Granola – Congratulations!