Thursday, October 9th, 2014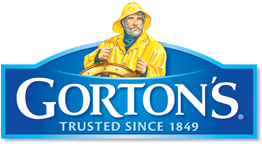 My, oh my! Helloooo Gorton's Fisherman!  I was pleasantly surprised when I was strolling through the frozen food section of my local Target store and found Gorton Seafood's Gluten-Free Grilled Haddock. The fisherman on the front of the box brought back flash-backs of dinner time when I was a kid, when my Mom would make me and my sisters fish sticks for supper. So, for nostalgias sake, I just had to give these gluten-free counterparts a try.
If you're looking for a quick (cooks for only 14-16 minutes in your 350 degree oven) and tasty dinner these gluten-free fish fillets are perfect.
These fish fillets have only 80 calories per servings  (though I do admit… I ate two servings with my dinner.) They also have no MSG, artificial colors or flavors, and are made with 100% wild-caught haddock.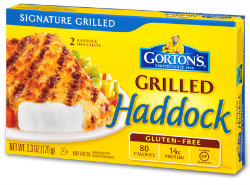 I tried the Signature Grilled, but there are also a ton more gluten-free flavors that Gorton's makes. I'll be trying these out these other flavors at a later date, and I also look forward to making myself a nice grilled fish sandwich on gluten-free bread with these!
For being a quick, easy, tasty and simple dinner idea, Gorton's Seafood's Gluten-Free Grilled Haddock is awarded this week's Friday Favorite on BeFreeForMe.com. Congratulations!