Thursday, December 11th, 2014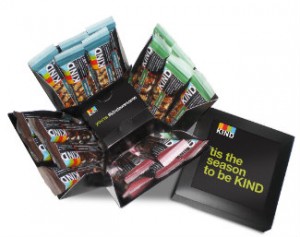 Need a gift for a Yankee Swap that everyone will be trading for? Looking for that perfect gift for your gluten-free best friend who deserves nothing but the best? Searching for some healthy, yet delicious, snacks to help a college student get through finals?
Well… I found the perfect gift… the KIND Cube.
I admit, at first I thought that the KIND Cube was… ahhmmm … well, just a BOX of KIND Bars – but how wrong I was. This cube is an origami-type of contraption that pops downward when opened. The sides are packed with 20 full-sized KIND Bars (5 each of the Dark Chocolate Nuts & Sea Salt, Dark Chocolate Mocha Almond, Dark Chocolate Chili Almond and the Dark Chocolate Cinnamon Pecan).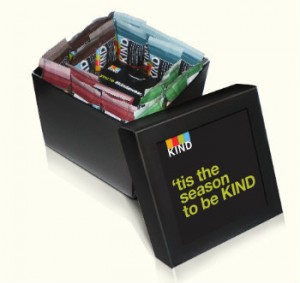 The cube is delivered in an all-black box with the KIND logo on the side. Nestled in ever so snuggly, the cube, once removed and opened, reminds me of a Jack-in-the-Box nicely waiting to surprise and fill the recipient with KIND-ness and glee.
Plus, this is the gift that keeps giving. Inside every KIND Cube is a "Kindawesome Card" – a card that the recipient can pass along to someone that makes the world more awesome through kindness. The card can be redeemed online for a handful of KIND bars.
So, if you're looking to spread some holiday kindness (that keeps on spreading!), check out this link on Amazon to purchase the KIND Cube (and take advantage of the FREE shipping, too!)