Tuesday, January 10th, 2017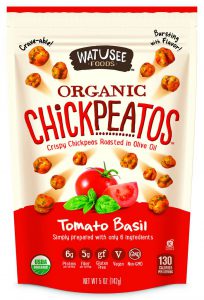 With New Year's Resolutions still in full swing, many of us are looking for  healthy, delicious and crave-able snack foods! Hello, Watusee Chickpeatos!
These crunchy little snacks that are bursting with flavor are healthy to boot. Most are made with just 5-6 ingredients – so they are "simple" and do not contain a lot of "junk". These snacks are packed with protein & fiber, and are also gluten-free, vegan, and Non-GMO.
The flavors that Watusee Foods offers are unique & delicious, they are flavors that adults and kids both love, including: Rosemary, Cinnamon Toast, Spicy Cayenne, and Tomato Basil. They also make a great gluten-free "crumbs" made from chickpeas!
A total of two (2) BeFreeForMe members will be selected to win a package of the Tomato Basil Chickpeatos.  One winners will be randomly selected from the entries received before Tuesday, January 17, 2017 at 11:59 PM EST, and one more winners will be randomly selected to win from the entries received between Wednesday, January 18 and Tuesday, January 24, 2017 at 11:59 PM. SO – make sure you enter to win two times!
How can you win?
Easy?
Reply to this blog and tell us what flavor of the Watusee Foods Chickpeatos look the best to you! (Is it the Cinnamon Toast? Tomato Basil? Or the Rosemary or Spicy Cayenne?))
Good luck, snack healthy… and as always…
Be Free!