Blueberries: Full of Memories, Flavor and Health Benefits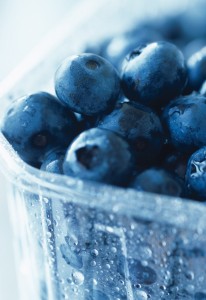 When I was a little girl, my sisters and I would pile into the car with Mom and drive to the Southeastern shore of Massachusetts to go blueberry picking. The sun was always hot, the air was often steamy and the dragonflies were buzzing.
And while my sisters and I filled our buckets with plump and sweet berries, we sang show tunes at the top of our childlike voices while the heat bugs struggled to provide the perfect pitch and harmony, and the dropping of each dark blue berry into our buckets provided a constant tempo.
The day would be long, but the labor of filling up our buckets would be rewarded with kerchiefs full of sweet berries to share on the long ride home to Cape Cod.
In today's world I don't have as much time as I did in my youth to spend an afternoon picking blueberries. Ode to the simpler times. But the memories and the fondness described above encourage a childlike beam to appear on my face when I see native berries, all packed up in the flimsy wooden boxes at my local farm stand.
I also love blueberries because they are so versatile. A sprinkle can be a topping for cereal, yogurt, salads or ice cream; they can make a muffin come to life; they are a welcome addition to a breakfast smoothie and they are delicious snack that can easily be eaten by the handful, especially since one cup of blueberries has only about 80 calories.
Little did my Mom know back-in-the-day that we were out picking one of nature's "super foods" during those summer days of my youth. Blueberries are high in antioxidants, and vitamin A, C and D. The compounds in blueberries have also been found to fight the bacteria that cause urinary track infections, cancer and aging.
This is the time of year when blueberries are at their peak. I love to take afternoon snack break on the outside front steps of my office and enjoy a handful of these sweet plump berries.
Blueberries are a comfort food to me.
I shut my eyes and let their sweetness take me away to the simpler days of steamy summer Cape Cod afternoons, dragonflies, and heat bugs, all the while humming away show tunes of yesteryear… in total and absolute perfect pitch and harmony.