Thursday, December 20th, 2012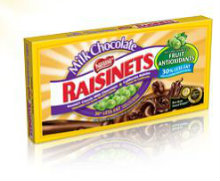 When I was a little girl I'd get a big box and munch them down every time I went to the movie theater. While other kids were getting sour-patched-whatevers and humongous buckets of popcorn – my simple pleasure was Raisinets.
And now that I'm older, I loved to revisit the sweet raisin treats, covered in chocolate… milk or dark.
I like to eat Raisinets by the handful, or in my cookie recipes – instead of chocolate chips. Check out this recipe for Gluten-Free Raisinets & Chocolate Chip Cookies.
And yes… Raisinets are gluten-free. So grab a handful and much away!
Raisinets are this week's Friday Favorite on BeFreeForMe.com since they are tasty chocolate treats that bring back happy gluten-free memories! Congratulations!