Friday Favorite: New! Chobani Yogurt Flips … Gluten-Free & Yummy!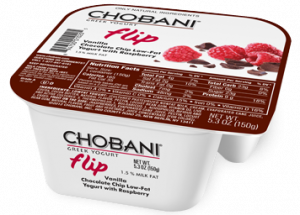 Chobani's new product is one you're going to flip over… Literally!
Chobani fans rejoice! Flips are the newest in Chobani's line-up of gluten-free yogurts. Chobani Flips are a cup of low-fat yogurt alongside a separate section of tasty stir-ins. They are all natural, gluten-free, free of artificial preservatives and flavors.
The two current flavors Flips come in are: Honey Banana and Vanilla Chocolate Raspberry. The Honey Banana is low-fat honey yogurt alongside a smooth banana puree. The Vanilla Chocolate Raspberry is low-fat vanilla chocolate chip greek yogurt paired with ripe, sweet raspberries.
I love the Honey Banana for breakfast, and the Vanilla Chocolate Raspberry for a sweet snack… or even dessert.
Chobani Flips are currently only available in the Northeast US, but are making there way across the US. Keep checking your dairy department for them!
Totally delicious, fun… and also low-fat are the reasons why this week's Friday Favorite goes to Chobani Flips. Congratulations!