Sunday, August 7th, 2011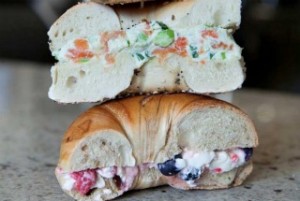 Imagine going into a bagel shop, being able to get a fresh-baked gluten-free bagel and then selecting your cream cheese along with gluten-free "add-ins" (think Cold Stone Creamery style) to make the bagel exclusively your own.
Add-ins that would pack a flavorful punch like basil, bbq sauce, wasabi, roasted red peppers, and cilantro; or add-ins that are fresh and healthy such as carrots, red onions, cucumber, raisins, broccoli, corn and chickpeas; or even add-ins that are on the indulgent side, including sprinkles, chocolate chips and potato chips?
This is not a dream my friends. This is Vic's Bagel Bar in NYC.
Vic Glazer, the owner of this Bagel Shop (aka: my gluten-free idea of heaven) was diagnosed with celiac disease six months after opening his bagel shop.
But instead of throwing in the towel with the bagel holes and calling it quits, this Harvard pre-med student is no dumbie. He decided to switch grains and developed a gluten-free bagel mix that could only add to his repertoire of customers.
Customers like me that really, really, really appreciate every single gluten-free bagel he bakes.
After stumbling across his website searching for the newest and greatest in the gluten-free culinary world, I am seriously thinking about a Vic-Trip. Yes, a trip to NYC to meet this ingenious gluten-free bagel maker. I seriously think it will be worth the trip.
Until then, I'll be dreaming up my gluten-free bagel topping combos.
Note: Please feel free to comment and share if there is a bagel shops near you that offers gluten-free bagels and add-ins like Vic's Bagel Bar!